On November 4, 2021, Challenges and Opportunities in a Globalized World: the Second Shanghai Jiao Tong University (SJTU)-the University of Murcia (UM) Bilateral Workshop was successfully held online. Prof. Senena Corbalan Garcia, Vice President of the UM, Prof. Pascual Cantos Gomez, Dean of the School of Humanities at UM, Prof. Wang Ning, Dean of the School of Humanities at SJTU, Prof. Cai Wenjing, Vice Dean of the School of Humanities at SJTU, and faculty and students from both universities attended the workshop.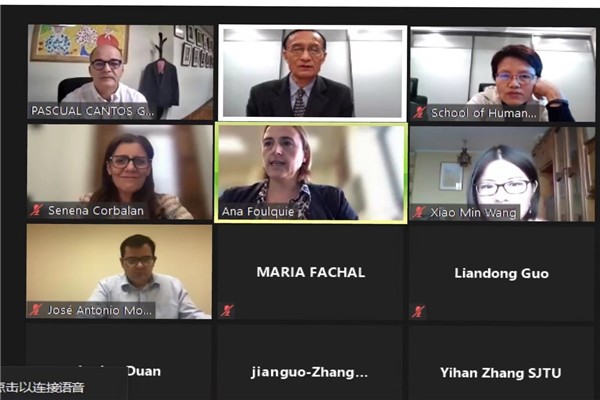 Prof. Senena Corbalan Garcia, on behalf of UM, delivered a welcome address. She reviewed the first bilateral workshop in 2019 and was delighted to witness the co-organization of the second bilateral workshop. She believed that through this year's workshop, the two universities would enhance mutual understanding and promote more collaboration and exchanges in the near future.

Prof. Wang Ning, on behalf of the School of Humanities at SJTU, also made a welcome speech. He reviewed the previous collaboration between the two universities and mentioned that with the joint efforts of the faculty and staff from both universities, the second bilateral workshop had finally become a reality. He believed that the two universities would continue to strengthen connections and promote more collaboration in research, faculty and student exchange, and their friendship would continue to expand and deepen.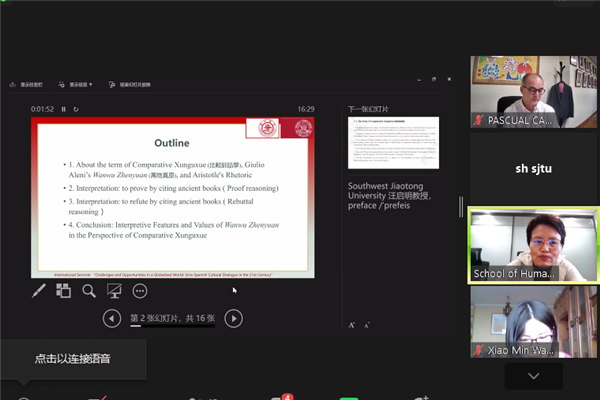 Later, keynote speakers from both universities delivered their speeches respectively, and had in-depth discussions on literature, history, art and translation studies.
By the end of the workshop, Prof. Cai Wenjing made concluding remarks and mentioned that the speeches and discussions are quite informative and thorough, and she believed that more platforms for academic exchanges would be established between the universities in the future.